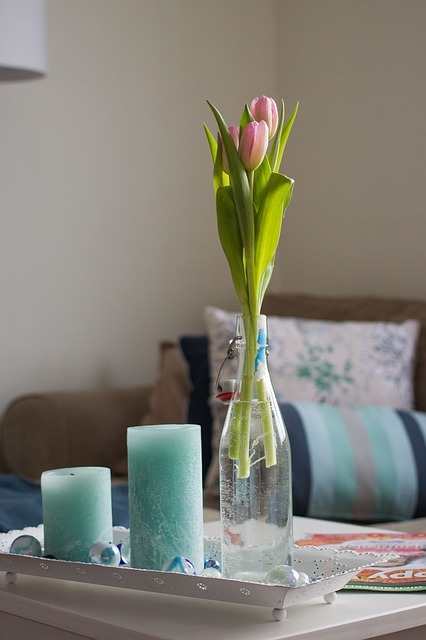 Abiding by rental rules is important, but so is style and making a house feel more like a home. Thus, we've put together a little list for you to help personalize your home, while still insuring you get your security deposit back by the end of it.
Storage – Let's be honest, rentals often lack sufficient storage place, and since custom cabinetry isn't usually an option for renters, investing in some added storage is key. Add some simple shelves, bookshelves, baskets, or under the bed storage.
Blinds – Vertical blinds may be the ultimate decorating sin. No one likes feeling as if they're living in a motel room. We suggest you either take them down or hide them under curtains. Just don't throw them out or you may not get your security deposit back!
Accessorize – Pillows, throws, candles, books, light fixtures… the only way to get a truly genuine space. This is by far the easiest and a MUST.
Wall Art – Those pesky holes might keep you from hanging art or photos on your walls, but when it comes down to it, they'll only take a few minutes to patch up when it comes time to move out. This doesn't mean you have to hang an entire art gallery, but hanging one statement piece and placing the rest of the photos on a mantel or shelf should do the trick.
Rugs – Last but not least, rugs: the peanut butter to your rental jelly. If there are scratched hardwood floors or stained carpets, you can cover those up easily with a throw rug. Not only that, a rug is a great investment piece that will add your personal flavor to any space. And they absorb noise and make a room feel comfy.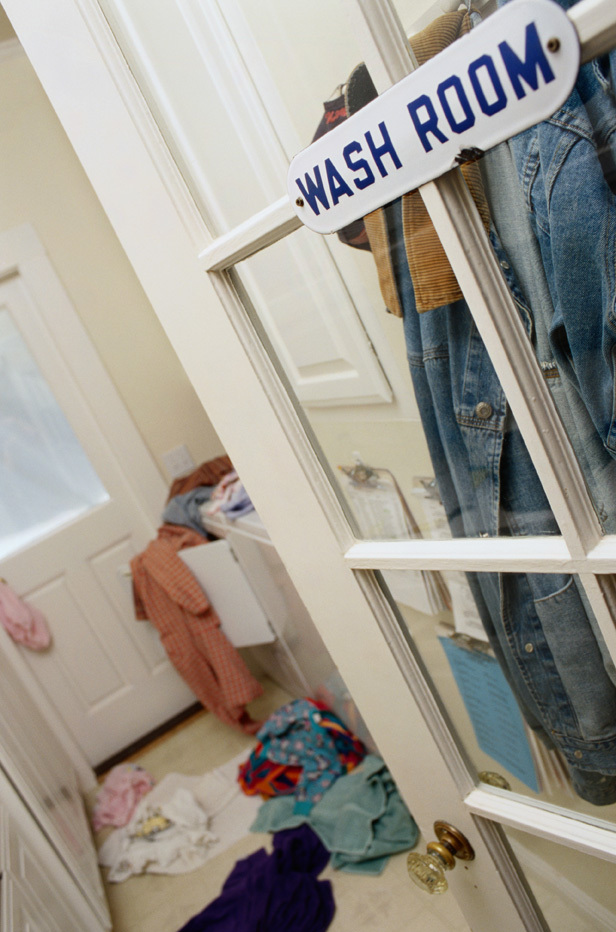 The New Year is a great time for renewal, and there's no reason why your home shouldn't share in this time of rejuvenation. Here are a few ideas to give your home – and your spirits – a lift as you move forward in 2018.
Get organized
One change that might make a big difference in your life is organizing your space. Like most projects, the hardest part is getting start, so start small. Decide which one area would make you feel the best to have organized. Kitchen wraps and unruly pots lids driving you crazy? Start there. You may just feel so good afterwards that the next area won't seem so daunting! Here are some organizational strategies to help:
Contain it: Seasoning packets, magazines, rubber bands… they're easier to locate and cause a lot less mess when they're all in one place. Just choose an appropriately sized container, be it a jar, box, basket or drawer, and consolidate.
Consider a container that's both attractive and durable, particularly if your items will be in view. Decorative baskets come in many sizes, shapes and materials, from fabric to wicker and solid wood. They're pretty and versatile enough to corral magazines in the living room or toiletries in the bathroom cupboard. Office supply stores carry metal mesh accessories that are great for gathering pushpins or pens. Stylish glass jars are good for colorful items such as buttons. You can even buy pre-made organizers or order custom inserts to straighten mess drawers.
Make the most of the space you have: You probably have storage space that's not well utilized because it's inconvenient. For deep corner cabinets, you can install lazy-Susan shelving so you can actually get to the items in your cupboard. Sliding storage racks hold pan lids, cleaning supplies and more, pulling out for easy access. Stair step shelf organizers let you see (and reach) what's in the back row of a cupboard. And shelf-helper platforms double your shelf space and help you separate fragile items to keep them from breaking.
Look for space in new frontiers: You may have more room in your home than you think. There are lots of storage options designed to make use of hidden space. Under-counter paper towel dispensers and space racks. Kitchen-wrap organizers that hang on the bottom side of shelving. Bike risers and ceiling-mounted storage shelving for garages. Walls can also offer an alternative to precious counter space, with magnetic strips to hold knives, scissors, tools, jars with metal lids and more.
Create additional space: You can give yourself even more room by doing away with some traditional pieces of furniture. For instance, a fold-down ironing board frees up space in a closet or laundry room. A wall bed lets your guest room double as an office or craft room. A desk armoire gives you an "office in a box" that fits right into your living room after-hours. And bed risers can give you extra space under the bed.
Reinvent your space
With a little imagination, you can give your space an entirely new look and feel for the New Year. And even small changes can work wonders to rejuvenate your home.
Introduce new colors or patterns: Winter is a time for deeper hues and richer colors. You can transform your home by adding slipcovers, switching shower curtains and bedding, adding a new area rug or changing out throw pillows.
If you don't want to change the room's color palette (if your room is white on white, for example), you can still mix things up by incorporating textures such as jacquard, quilting, animal patterns, faux fur, chenille, mohair or velvet.
Shake things up: Sometimes just changing things around can make a huge difference. Try rearranging the furniture, and maybe even take out a piece to give the room more space. Shuffle the items on your mantle, the books on your coffee table, potted plants and pictures. By featuring items with a winter color palette, you can make your home warmer and more inviting.
Dress up the walls: Not everything that hangs on a wall has to be in a frame. Consider something different, perhaps a metal sculpture, small rug or tapestry, decorative dishes, masks, antique items, such as old keys…the list is only limited by your creativity.
Accessorize: Area rugs make your room or hallway cozier and add a touch of sophistication. Plants not only add a nice decorative touch, but research shows they're also good for your health. Spice up your entrance with a shiny new doorknob and knocker. Add some stylish light switch plates, or new drawer and cabinet hardware in the kitchen.
It's amazing how much changing our personal space can change the way we feel about our home. What do you do to update your home décor for the season?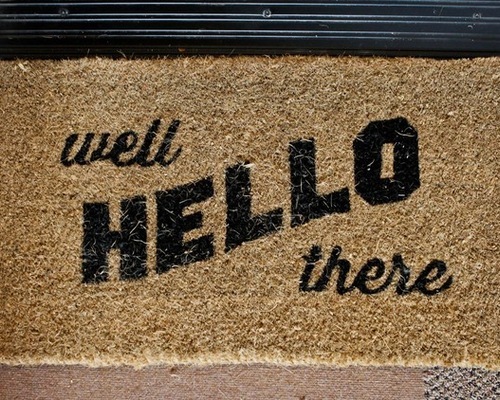 Right before the guests ring the doorbell or give the front door an old-fashioned knock, they step on your welcome mat. This mat serves two purposes: catching debris and adding style. Here are some ideas for how to give this entry detail a refresh before the hustle and bustle of the holiday season begin.
Welcome Mat 1: Caela McKeever, original photo on Houzz
Say Hello
A lettered mat can help you say exactly what you want to say when someone comes to your door. Obviously nothing says hello more than the word "hello."
The simple greeting might also draw visitors' eyes to the ground and remind them to take off their shoes before they step inside.
Coordinate Colors
If you have a colorful front door, use that as doormat inspiration. If your door lacks color, maybe it's time to paint it.
Door paint: Scarlet Ribbons, Dulux
Welcome Mat 2: Zack | de Vito Architecture + Construction, original photo on Houzz
The whole mat doesn't need to match the door. This striped mat draws on other colors found on the home's exterior.
Welcome Mat 3: Rustic Porch, original photo on Houzz
Think Outside the Rectangle
Many front doors feature rectangular doormats, but other options exist. The semicircle mat in the photo works nicely with the rustic rockers, porch swing and shutters.
Welcome Mat 4: Garrison Hullinger Interior Design Inc., original photo on Houzz
Roll Out a Rug
A big, bold rug in front of the door adds color and life to this home's entry, designed by Garrison Hullinger.
A large porch rug can also make the space feel like another room of the house. If you add a few chairs, people can stop, relax and enjoy the outdoors. Plus, more rug means more chances for it to pick up any water or dirt from the shoes of incoming guests.
Welcome Mat 5: Seattle Staged to Sell and Design LLC, original photo on Houzz
Play With Patterns
An intricate design gives guests a reason to notice this front door mat. A mat's design can also pull together all the elements of a porch, such as the front door, mailbox, planted blooms and exterior paint.
"I chose the mat because it is fun, colorful, and it accentuated the colors of the house and the plants," says Shirin Sarikhani, the owner of Staged to Sell and Design in Seattle.
Keep It Natural
If the entry is already bursting with details, such as eye-catching hardware and light fixtures, a neutral mat will help keep the attention on them. Natural doesn't have to mean boring.
Welcome Mat 6: Grandin Road, original photo on Houzz
Personalize the Space
This contemporary monogrammed mat is hard to miss. "Don't be afraid to choose a doormat with personality, says Kate Beebe of Grandin Road. "Work some wit and whimsy into your entrance, and choose something that will put a smile on your guests' faces."
She also recommends picking a mat that covers at least three-quarters of the entrance's width and allows the door to open easily.
Change With the Seasons
While you are changing the front porch decor, swap a plain doormat for a festive option.
After the holidays, clean off your seasonal doormat and store it until the following year.
Match Materials
Doormats come in many materials, including ones that mimic entryway hardware. A rubber mat offers the wrought iron look without the weight and expense of the real material.
The punched-out spaces in a rubber mat also catch a lot of little pebbles, which can then be easily swept away with a broom.
Make It Feel Like Home
Doormat options are pretty much endless, so it shouldn't be hard to find one that works for you.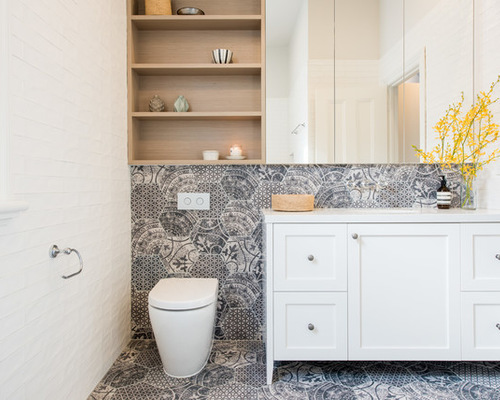 Small spaces can drive you crazy, especially if you need pipes in a compact bathroom, kitchen or laundry to run toilets, sinks and washing machines. Here are some must-know tips and tricks for your home's high-traffic rooms to free up space for features and fixtures that need plumbing.
Plumbing Hacks 1: eat.bathe.live, original photo on Houzz
1. Tinker with the toilet. Many decorators will have ideas about how to create the illusion of space in a small room or house, but the trick is to free up space. And most of the time, the busiest and most-used rooms in the house — the bathroom, laundry and kitchen — are the best rooms to start with.
If you find your fixtures take up too much space, slim them down or get rid of them altogether. A wall-hung toilet with a concealed tank, for example, saves precious capacity in the smallest room in the house. The tank sits in the wall and the buttons and bowl are all you can see. Be aware, though, that concealed tanks can pose an access problem for your plumber and one day that tank will need maintenance and, eventually, replacement.
Pro tips: Hide an access panel, or position the tank where the wall it backs onto is a closet or cabinet, and buy only well-known brands so replacement parts are easily found.
A close-coupled, back-to-wall toilet, where the tank and bowl sit flush — excuse the pun — against the wall, can be a good, more affordable compromise.
You may also consider an integrated toilet with a sink on top. This is a great option if you're looking to reduce water usage and become environmentally friendlier. It could be just what you need: a sink where the wastewater from washing your hands runs into the tank for the next flush, and you save space because you don't need a separate sink.
Hiding the tank in a setup like this streamlines the room and creates counter space — a luxury in a tiny bathroom. Connecting the sink wastewater to the tank is also an option in this integrated design.
Plumbing Hacks 2: Sarah Blacker Architect, original photo on Houzz
2. Bath or shower? Why not both? Some bathrooms feature a separate bath and shower, but if you're short on space, consider getting rid of the bath altogether to create more space, or even combining the two in a shower tub. Modern inset bath designs are slender so you can gain space while still keeping a tub.
Pro tip: If you're not crazy about the look of a built-in bath-shower, consider a back-to-wall bath design. It has the same style as a free-standing bath on the side facing the open bathroom, but it fits snugly against one wall (or two) for ease of cleaning.
Another option to consider is a wet bathroom. The layout consists of a toilet and small sink with a shower overhead and a drain in the middle of the room. As the name implies, it means everything can (and usually does) get wet, but without a surround for your bath or shower you can really maximize space.
Related link: Make the Most of Your Bathroom With These Key Measurements 
If that's not for you, a frameless glass screen to keep the water contained could be a great alternative. This is a practical option, but always remember to hire a professional to waterproof and tile the walls to prevent dampness from seeping in.
Plumbing Hacks 3: clim createur d'interieur, original photo on Houzz
3. Buy compact fixtures. Getting rid of bulky faucets in favor of compact fittings is a small job that can make a big difference, so don't discount this method of slimming down your bathroom. Consider a side-mounted faucet, which combines hot and cold taps in one, but check the handle swing direction since this may negate the space saved. Or you can opt for wall-mounted mixers that allow the basin to be pushed back and have the no-gunk-around-the-bottom advantage.
The shower head can also come from the ceiling to accommodate a smaller recess.
Pro tip: If your shower walls are being rebuilt and tiled, have niches for your shampoo bottles built into the walls to keep your shower area looking sleek. Hide the niche out of view from the doorway because, more often than not, your shower gel, shampoo bottle and razor collection are not photo-shoot-ready.
Plumbing Hacks 4: Interbath, original photo on Houzz
4. Rethink your sink. Replacing a large laundry sink with a smaller kitchen-sized basin will gain you valuable extra counter and storage space.
Related link: Want More Advice Like This? Ask a Professional Plumber
Pro tip: Switch an indoor hot water tank that holds multiple gallons to a continuous-flow system, which is a small, wall-mounted unit.
A smart placement of features is another good way of gaining extra room. A sink in the corner of the kitchen will give you more prep space, for example.
Plumbing Hacks 5: Day Bukh Architects, original photo on Houzz
5. Off the counter, onto the wall. Wall-mount as many fixtures as possible to use vertical space and clear counter space. This goes for every room in the house.
In the bathroom, consider a sink rather than a full vanity, and build cabinets and shelves along the walls or install a mirror-fronted cabinet above the basin to compensate for the missing vanity storage. Some mirrored cabinets can also be recessed into the wall cavity behind. Accessories such as toothbrush holders and hair dryer docks can also be wall-mounted.
In the laundry, wall-mounting what you can will make doing the washing easier on your back and create a little more room underneath to stash linens, detergents and even your vacuum cleaner and other cleaning equipment.
You can wall-mount storage in every room. In the kitchen, for example, move appliances such as microwaves onto the wall and off your precious counter space. Install a wall-mounted magnetic strip for knives, and mount a paper towel holder onto the wall for easy access.
If you need every bit of space in a room, consider recessing your cabinets or shelving into the wall — the unused space under the stairs is the perfect opportunity for this, as is a wall cavity. If you need deeper storage and can take space from the adjoining room, that's even better.
Plumbing Hacks 6: Whiting Architects, original photo on Houzz
6. Make more room for what matters. Ever noticed how much room doors take up? You need to keep a space clear to allow them to swing open, which can be a hard ask in a small bathroom. Consider switching the orientation of the door so it swings out of the bathroom, or install a sliding or pocket door.
This also goes for doors on showers, vanity units and medicine cabinets (which can also be recessed into the wall). Some people remove the doors to their kitchen and laundry rooms altogether to create a more open space. The more space you can create, the easier it is to install the fixtures (and storage) you want or need.
Related link: Keep Shower Supplies Tidy With a Chic Caddy
Pro tip: Light is an important element when it comes to creating a feeling of space. In addition to optimizing natural light from windows, install good overhead lighting. Consider skylights or translucent ceilings if the windows are too small in a bathroom or kitchen. Mirrors can be your best friend in creating the illusion of space by doubling the visual area and diffusing light around the room.
Whether you live in a tiny house or simply have small rooms in your home, being able to use what you have well is key to freeing up space. It doesn't need to cost much to create the illusion of a bigger area, even in the smallest room in the house.
By Darren Clancy, Houzz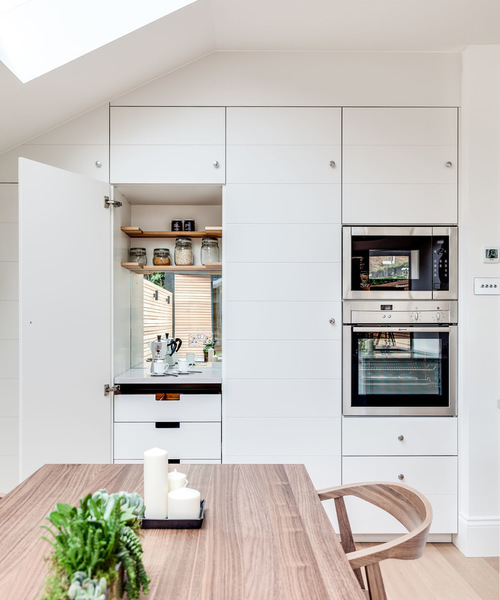 If you're thinking about remodeling or are about to break ground on your first renovation, odds are you probably know a bit about how the project is going to go. After all, you've watched a few TV shows, your cousin's husband is a general contractor and the guy you sit close to at work tells you every detail of how his wet bar is coming together. So you pretty much know all there is to know, right? Not so fast.
Live Remodel 1: JLB Property Developments, original photo on Houzz
As much as you may be able to glean from friends and family, articles and TV, there's no experience quite like personally getting down into the dirt (more on this later) of a remodel. And what you don't often hear about are the harsh realities of wading through such a detailed, often stressful project.
We've written before about how remodeling a home is the ultimate litmus test for your relationship. And that's why I think understanding a few of the common negative things that happen during remodel is a vital component of being prepared.
I've not only braved a few remodels myself, but I've worked on the other end as a general contractor, and while I can't claim I know everything, I do think I have a lot to share. Here are a few things you should know about what it's really like to live through a renovation.
Related: How to Survive the 'Punch List' Phase of a Remodel
Live Remodel 2: Turnbull Griffin Haesloop, original photo on Houzz
It Will Upset Your Daily Schedule
Say, for example, every day before you leave for work you like to brew a cup of tea, settle in with your tablet at your breakfast nook and prepare for the day by going through your emails.
Now picture this exact routine while your kitchen and breakfast nook is under construction. The peace and tranquility (and cleanliness!) of your morning retreat is no more.
You may have to alter your daily routine a bit by finding a coffee shop near your house where you can relax, or by relocating to your bedroom for your beloved cup of chai.
Creatures of habit, be warned: You may have to (take a deep breath here) change a couple of your habits while your remodel is going on.
Related: Remodeling Your Kitchen? Move Your Coffee Station to Your Living Room
Contractors often like to take up shop (if permitted) in garages, as they are often places where they can make a bit more of a mess and noise while remaining close to the job site. If you want certain parts of your home, yard or garage to remain sacred, talk with your contractor about areas where work can and cannot occur.
Live Remodel 3: Kasper Custom Remodeling, LLC, original photo on Houzz
There Will Be Dust
This one may be a no-brainer to some and a shock to others (again, take a deep breath). Some contractors will give hints that the project will get dusty, such as: "We will take measures to put up dust barriers around the area of the remodel" or "we will keep a broom and dustpan on site at all times."
But no matter how many protective products are put up, there are certain stages of construction that can get intense (for example, sanding down drywall). Not only does dust get thrown into the air while work is going on, but it stays floating around in the air for a while afterward. And floating dust's favorite pastime is, regrettably, travel.
It may travel to different areas of the house, settling into your dog's bed, onto your kitchen counters and even into your lungs. You may be thinking, "So what? I breathe dust all the time. That's just life." This is true, but the dust you're usually inhaling is dirt and dead skin cells and other organic stuff. Remodeling dust can be made of not-so-nice things such as chemicals found in paint, fiberglass insulation or cement.
Have a conversation with your contractor to see whether he or she plans on using an air scrubber during your remodel as well as dust barriers and traditional cleaning. This combined system helps to prevent dust from traveling, and it also takes a lot of the nasty particulate out of the air before it has time to invade other areas of your house.
While most contractors genuinely work to keep your home clean, safe and comfortable during a remodel, sometimes dust control isn't a top priority. It will quickly become front and center in your home, though, if it isn't properly managed from the start.
Related: Bathroom Renovation? Get Ready for the Day in Peace With a Bedroom Vanity
Live Remodel 4: studiovert design, original photo on Houzz
It Can Be an Emotional Roller Coaster
Every person handles stress and emotions differently, but the fact is that having a bunch of unfamiliar faces tear your house apart before your very eyes is stressful. I know that sounds like a bit of hyperbole, but when you're actually living through a remodel, that's exactly how it feels.
It can be tough to keep your head on straight when you're trying to make selections for tile and lighting fixtures that suit your budget while simultaneously worrying about whether the project will end on time. Add family and work life to that? Yikes.
Now that I've worked you up, let me provide some peace of mind: Contractors know what they are doing. They will do everything they can to make sure you are happy with your home and the job is completed in a timely manner. Your local YMCA provides yoga classes, which can be very helpful with managing stress. Feeling better?
Accept that you will feel some stress and some emotions, and allow yourself to be OK with that. It's a part of the process. Freaking out about the fact that you're freaking out will only make things, well, freakier.
Live Remodel 5: Amanda Armstrong Sava, original photo on Houzz
Now that I've shaken up any romanticized beliefs you may have held about remodeling, let me instill a bit of faith by saying that it's not all bad. Remodeling can actually be quite pain-free, in fact, if you communicate. I know I've harped on this before, but I can't stress the importance of it enough. Talk with your contractor before work starts about things such as scheduling, dust control and communication preferences. It makes a world and a half of difference.
So, yes, there will be dust, and yes, you might get tired of seeing your project manager every day, but there will be days when you come home after work and see new countertops being installed, and it will stop you dead in your tracks because — whoa — those look great!
Other times you might have the house to yourself for a second and you can poke around to "ooh" and "ahh" over all of the new, shiny things filling your beloved home. So not only is it not all bad, some of it is actually pretty good. So good, in fact, that you might even start thinking about your next project before the first one even ends.
As with anything in life, a remodeling project can come with its ups and downs. Certain phases seem to go a mile a minute, while others feel like they've lasted a lifetime and a half, all while it looks as though nothing is being completed. Fear not — this is pretty typical. And, while every project is different, a good portion of renovations have four major phases, what I'm calling the Honeymoon, the Midproject Crisis, the Renewal of Vows and the Happily Ever After.
For now, let's take a closer look at the Honeymoon phase of renovating.
Honeymoon 1: Homegrown Decor, LLC, original photo on Houzz
After weeks of searching for a remodeler in your area, calling references, checking out their Houzz profile and working toward an agreeable price, you say, "I do," sign the contract, finalize the design and begin work in two weeks. There's a little nervousness in the air, but as you enter the Honeymoon phase, the mood is mainly one of excitement.
Demolition Begins
A couple of weeks go by, and the day comes for work to start. Protective products are placed, and demolition begins. Demo, sweet, demo. Normally one of the quickest moving stages of a remodel, demolition makes it look as if a lot of work is being done practically overnight. Cabinetry is removed, walls are torn down, appliances are taken away and, in a matter of days or weeks (depending on the size of your project), you're staring at a blank canvas.
After that, any necessary framing and structural work will begin. Framing usually isn't as exciting or fast-paced as demolition, but still, there is visible progress almost daily. At this point, you and your partner are walking on air. The rate of work is astounding, and you're still very excited (although maybe a little less nervous now) about the entire project.
Honeymoon 2: Blondino Design, Inc., original photo on Houzz
Speed Bumps Ahead!
However, like a delayed flight on a real honeymoon trip, there are obstacles that can slow down this phase, specifically during demo. If you're living in an older house, there's the possibility that when your walls are opened, asbestos or lead could be discovered, which will need to be dealt with before work can continue.
Another common speed bump is building permit delays. Going through government-mandated processes can be tricky sometimes, especially if you or your building professional don't have everything you need to get the green light from your municipality the first time around.
More holdups can come from structural elements that become apparent after demolition. For example, say you were going to move a door to another wall in your dining room. Once the demo crew opens up the wall where the new door will be installed — surprise! — there are plumbing pipes running the height of the wall. Reconfiguring design to meet these new requirements will add time to the demo stage.
Don't panic. These delays happen often, and it's worth accounting for and accepting these hurdles before you even begin to think about renovating.
Honeymoon 3: Jim Schmid Photography, original photo on Houzz
Rolling With the Punches
To help your honeymoon run more smoothly, here are a few tips I've learned from witnessing hundreds of remodels (and even surviving a couple myself):
Embrace change. Really. Give change a huge hug. Get to know it on a personal level. Because no matter what room you're touching (whether it's the kitchen or a teensy guest bath), it's likely that you use that room daily. The sooner you accept that this room (major or not) will be unavailable for a period of time, the sooner you'll be able to adapt your daily routines to fit around it.
Love your microwave. This applies to kitchen remodels specifically. As soon as demo is done, your primary cooking and eating area will be gone. Before your project starts, find an untouched room in your home to create a mini kitchen that will include necessities such as a microwave, toaster oven and coffee pot. Think of it as the mini kitchen you had in your dorm or apartment in college and revel in the nostalgia.
Don't worry too much. I know this sounds hard — OK, really hard, especially for control freaks like myself — but trusting your building professionals to know what they're doing (even if you do come across one of the aforementioned speed bumps) will really help you keep your head on straight. And if you do have questions or concerns …
Communicate! Communication has proved time and time again to be one of the biggest parts of a remodel — and a successful marriage. I cannot stress it enough. Talk with your contractor, talk with your significant other — talk, talk, talk. Ask framing questions, bring up budgetary concerns, muse over paint colors. Whatever is on your mind, getting it out of your head and into the air is beneficial for everyone involved (especially you).
Honeymoon 4: Jeff Herr Photography, original photo on Houzz
And remember: The Honeymoon phase of a remodel is definitely one of the high points in a process with numerous peaks and valleys, so try to enjoy it. No matter what you may encounter during demolition and framing, it's likely that the mood of everyone on board — you, your contractor, your family and even your pet — will be very positive.
Related: 15 Questions to Ask Before Buying a Fixer-Upper
You've just embarked on a new journey, and the excitement of watching the image of your new home come into focus just adds fuel to your fire. Revel in that post-contract-signing bliss and maybe enjoy a glass of your favorite beverage with your significant other while you two imagine the new space that will be formed in your newly torn-apart home. Enjoy it, because what lies ahead is a bit uncertain.
With that in mind: What happens when it feels like nothing is happening? Is there still work being done? Are we still on schedule? Is it OK to freak out a little bit? Read more in the upcoming article in this series, "The Midproject Crisis."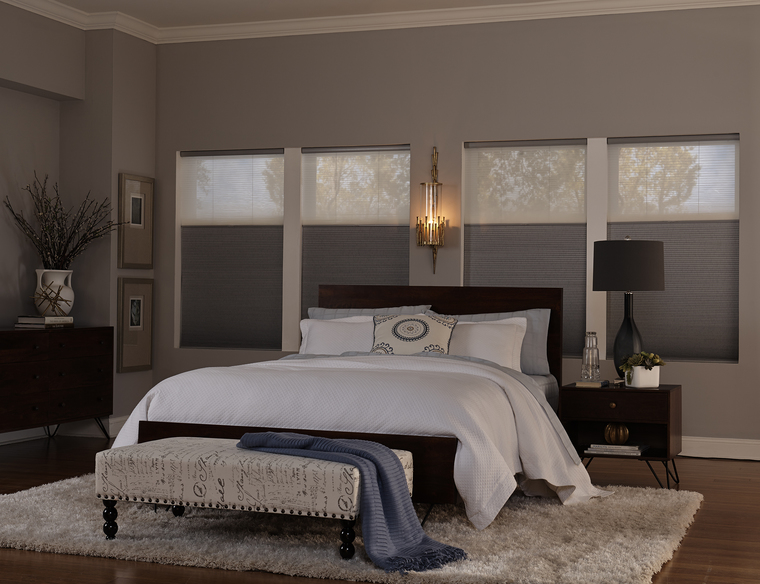 At the end of a long day, your bedroom should be a sanctuary of comfort that welcomes you in. But, as a room that guests rarely see and in which homeowners spend most of their time with their eyes closed, its upkeep frequently gets pushed to the bottom of the to-do list. Thankfully, there are some little design tricks that can make a big difference. Turn your bedroom into a restful retreat when you up its coziness factor with a few of these easy ideas.
Layer textures. Sheepskin rugs, a down comforter, plush pillows and knit blankets can add a softness to the room that will make you want to sink right in. Lift these textures upward, with a canopy, tufted headboard, billowy curtains and hanging textiles (like a weaving) so even the walls and ceiling feel snuggly.
Pick the right paint. Dark, saturated colors make a room feel like it's embracing you, which is ideal for setting a sleepy environment. But if you're nervous to commit to a dark color on the wall, choose a pale dusty blue, sage green or another light natural color for a soothing tone (just steer clear of energetic hues). Have you ever wanted to sleep on a cloud? Go with all-white paint and decor which makes even a basic bedroom feel soft and spa-like.
Personalize it with reminders of the places and things that make you feel at home. Do you have a fondness for flowers? Bring floral patterns in on your textiles. Do you dream of vacation at the lake? Frame a photo of your favorite spot! Photos or paintings of uncluttered natural landscapes—like a sunset reflecting on water or a hammock under the shade of an oak—can rekindle memories of relaxation and are perfect for creating a sense of calm.
Add mood lighting. Soften the light to mimic dusk for an intimate mood with dimmer switches, lamps, lanterns or even string lights. Just make sure you can reach the switch from bed, so you don't have to disturb your peace to get up and turn it off when you're ready to roll over and fall asleep.
Skip metallic finishes. Choose warm natural decor options like wood and fabric instead of cold, manufactured metallics. This goes for everything from your bedroom furniture to window treatments. Faux wood blinds, especially when paired with floating curtains, fit with a cozy aesthetic and let you filter out harsh sunlight and maintain privacy for a truly sheltered slumber.
Bring on the books! Stacks of good reads invite you to snuggle in and get lost in another world. A true retreat is a room with plenty of books that begs you to stay.
Fix up—or fake—a fireplace. If your bed sits hearthside, embrace this romantic accent with styled logs and a decorated mantle. If you don't have such a luxury, create a faux fireplace to add comfort and warmth through your décor: Arrange oversized candles and lanterns safely within a homemade hearth to bring in that cozy fireside feeling without changing the structure of your home.
Keep the room uncluttered. When you want to settle in, a mess distracts you from finding comfort, so minimize the amount of stuff that makes it to your bedroom. Watch your nightstand, which often becomes a catch-all, by making a point to rehome any wandering wares now, and put things away as soon as they enter the room in the future. If you're apt to let laundry pile up, keep it behind the closed doors of your closet so it doesn't crowd your peace.
Create a sense of timelessness. Tuck clocks and electronics away so they're nearby if you need them, but their wires and harsh silhouettes aren't reminding you of life outside your sanctuary. The hush that falls in a room devoid of gadgets will allow you to easily disengage from the stresses of reality.
Rethink your bedding. Add a pillow-top pad to your mattress so it feels like your bed is hugging you when you climb in. Or, bring in a contoured body pillow which actually can hug you! Linen sheets feel luxe compared to cotton and are a simple swap to boost your bower. Many people also swear by skipping the top sheet while dressing their beds, which allows them to burrow directly into a fluffy comforter.
Appeal to your sense of smell. Aromatherapy can have a huge impact on your perception of a space, so find some soothing essential oils or a sweet candle to blanket the room with an ambiance you adore. As soon as you open the door, you'll be eager to plunge into your little oasis.
Nestle into nooks. A window seat, a reading nook or an upholstered seating area are all inviting spaces that can draw you in from the doorway. The more intimate alcoves you can create, the cozier your bedroom will feel!
Flooded with soft lighting, plush textures and other comfy touches, your bedroom environment will envelope you at day's end. And, perhaps even better than the idea of your bedroom refresh itself, is knowing that none of these tips take longer than a weekend to complete! So, slide into your slippers as you settle on which cozy updates you'll select for your new favorite room of the house.
Katie Laird is the Director of Social Marketing for Blinds.com and a frequent public speaker on Social Media Marketing, Social Customer Care and profitable company culture. An active blogger and early social technology adopter, you can find her online as 'happykatie' sharing home décor, yoga, parenting and vegetarian cooking tips.  If you're interested in faux wood blinds like those described by Katie, please go to the Blinds.com website.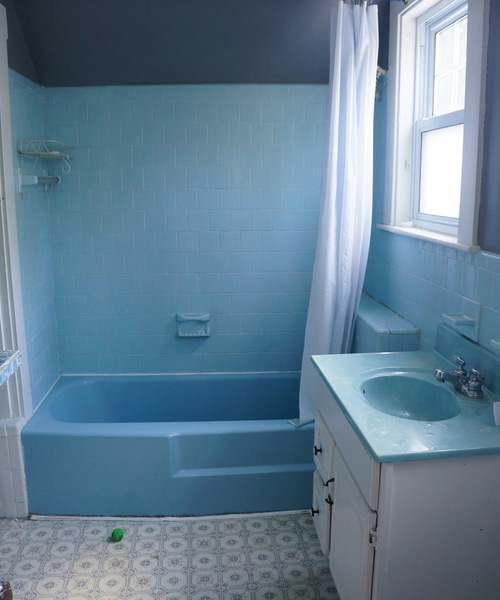 Maybe it's that 1980's soaking tub with the giant surround, or maybe you're prepping for resale, or perhaps an overhead flood is to blame. Maybe it's just time for a change. Whatever the motivation behind them, bathroom renovations are one of the project's homeowners put the most effort and investment into. Here are 6 of the most dramatic before-and-after bathroom stories from Houzz, from budget-friendly to luxe.
Related: Mini Bathroom Makeovers You Can Complete in a Weekend
Bath Makeovers 1: Before Photo, original photo on Houzz
1. The Bathroom That Helped Sell a House in One Day
BEFORE: In this Massachusetts bungalow, over 100 years old, the 1960s bathroom renovation wasn't offering much help to real estate agents.
Bath Makeovers 2: Copper Dot Interiors, original photo on Houzz
AFTER: Interior designer Karen Goodman had resale in mind, as she was redoing the house to flip. But it was important to her to preserve and restore the original 1902 feel. She found a claw-foot tub at the Habitat for Humanity ReStore and painted it green, added a wall-hung sink and used subway tile befitting the home's turn-of-the-century aesthetic. A unique shower curtain adds color and personality, while the classic fixtures have widespread appeal.
Great tip: Goodman shared her philosophy about painting the original wood with Houzz contributor Annie Thornton. "If it's painted, it's getting painted. If it's wood, it's staying wood," she said. "It wasn't my place to decide what should be wood and what shouldn't be in a place I don't plan to call home."
Shower curtain: Danica Studio; tub paint: Moss Green Rust-Oleum spray paint; claw-foot tub: Habitat for Humanity ReStore
Bath Makeovers 3: Before Photo, original photo on Houzz
2. Dilapidated 1970s Bathroom Gets Inspiration From a Dilapidated Mansion
BEFORE: The state of the bathroom in this 1912 Colonial-style home in New Jersey was sending the whole family up to the third floor to use the facilities because they couldn't stand the cracked tiles, 12-inch-high tub, awkward layout and dated colors in the main bath. While walking through a once-grand old house during an estate sale and seeing its fabulous colors and tile patterns, homeowner Jody Suden had a clear vision for the bathroom makeover in her own home.
Bath Makeovers 4: Tracey Stephens Interior Design Inc, original photo on Houzz
AFTER: Interior designer Tracey Stephens worked closely with Suden to help her achieve her vision, using classic fixtures and completing lots of complicated tile drawings to get the details just right. The tiles are based on historical patterns and colors and were handmade in Arkansas by American Restoration Tile.
The overall style suits the home's age and style, mixing mint green, white and black with vintage apothecary style.
Great tip: Even if you have a strong idea of what you want your room to look like, hiring a designer is key — you just have to find one who gets it. Suden told me she couldn't have done it without Stephens, who told me she considered herself the "midwife" helping Suden achieve her vision.
Bath Makeovers 5: Before Photo, original photo on Houzz
3. The Bathroom Where 2 Doctors Take Deep Soaks After Long Days
BEFORE: This Cincinnati bathroom was dark, dated and awkwardly laid out. Because of a lack of smart storage, the countertop had become a magnet for clutter.
Bath Makeovers 6: Ryan Duebber Architect, LLC, original photo on Houzz
AFTER: Architect Ryan Duebber stole about 16 inches in length for the bathroom from the master bedroom, then moved the toilet to the back of the room. This allowed space for a spacious shower and a Japanese soaking tub.
The sapele wood at the back of the room draws the eye and makes the room look deeper, while the new skylight, reflective white, clear glass, a floating vanity and a strategic lighting scheme bathe the room in light. (For example, check out the glow on the floor provided by the LED tape lights underneath the vanity.) In addition, there's a place to store everything so the counters can stay clean, maintaining the minimalist look the homeowners love.
Great tip: Having a specific place for everything you use in the bathroom will keep the clutter at bay. Give it a lot of thought early on in the design process. Where will your hairdryer go? Which products do you use every day in front of the mirror? Are you a toothbrush-out or a toothbrush-put-away kind of person?
Bath Makeovers 7: Before Photo, original photo on Houzz
4. Saving the Best for Last
BEFORE: These San Francisco parents worked on the spaces the whole family could enjoy before tackling their awkward master bathroom.
Bath Makeovers 8: Hulburd Design, original photo on Houzz
AFTER: Taking over an unused terrace space gave architect Holly Hulburd plenty of room to work in a new bathtub, a generous separate shower stall and a long vanity complete with dressing table. The room is a study in lines and scale, from the way the tub surround extends into a shower bench to the careful use of different sizes of rectangular tiles.
Great tip: When using strong lines, lining things up is important. In order to have the tiles meet the ceiling and floor without any cuts, Hulburd dropped the ceiling a little to make the geometry work.
Bath Makeovers 9: Before Photo, original photo on Houzz
5. The Bathroom That Makes the Most of Burgundy Floor Tiles
BEFORE: For the 2012 D.C. Design house, Christopher Patrick decided to embrace the existing tile and plumbing configuration in order to stick to a budget.
Bath Makeovers 10: Christopher Patrick Interiors, original photo on Houzz
AFTER: He chose a neoclassic wallpaper that complemented the burgundy tones in the floor, and added a more modern vanity to blend old and new.
Setting the sink and mirror asymmetrically on the right side of the vanity left ample room on the counter.
Great tip: Don't get stuck in a bathroom design rut. Patrick had an "antibathroom" attitude, styling the room more like a living room or den and adding open shelves instead of a typical medicine cabinet.
Bath Makeovers 11: Before Photo, original photo on Houzz
6. Adding Laundry Makes Way for a Guest Room in a Toronto Pied-à-Terre
BEFORE: The converted loft in this 1905 eyeglass factory offered a decent-sized laundry room that didn't get much use, but it didn't have an extra bedroom. By integrating the laundry into the bathroom, there's now room for guest bunks in the former utility room.
Bath Makeovers 12: Affecting Spaces, original photo on Houzz
AFTER: This shows the opposite wall from the one in the "before" photo; to see the complete makeover, click over to the story. Architect and designer Gillian Lazanik removed a linen closet and planned a layout that made the most of the space. This included room for a stackable washer-dryer and a new walk-in shower stall with a clear glass divider that opens up the room.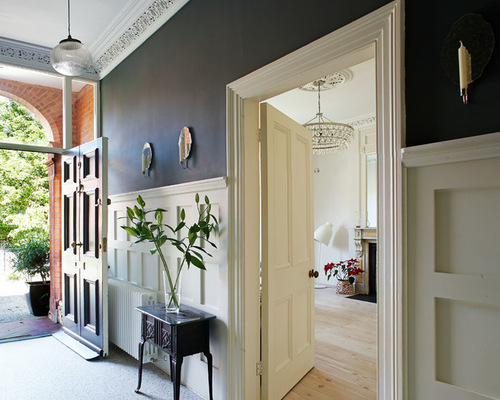 Working on your home can be a daunting prospect. Your mind may be flooded with ideas. You may be overloaded with advice from family and friends. You may be grappling with big questions, such as: Should we stay or should we move? Should we extend or simply tweak the space we already have?
The biggest obstacle can simply be knowing where to begin. If this is the case, it's time to step back, gather your thoughts and apply a little objectivity to the process. Whether you're planning a whole-house makeover or a fundamental reorganization, here are some ideas for how to go about creating a home that meets your needs in the best possible way.
Starting Point 1: Ambient Architecture, original photo on Houzz
Plan a methodical makeover. When major work isn't required but the whole house needs a face-lift, work systematically through each room to establish the extent of the work and outlay required. Start in the hall — it typically needs more thought than you might imagine — and work logically from there.
Think methodically about each room in terms of floor, walls, ceiling, lighting and furnishings. Prepare a list of items to be purchased and building or decorative work to be done. You're aiming to create a priced inventory of all the material needed for a successful project.
You may find it useful to create a shopping list with relevant dimensions on your phone or in a dedicated notebook for handy reference on the go.
Start with issues, not solutions. If significant alterations or even an extension are envisaged, take time at the outset to reflect on what's propelling you to undertake the work in the first place.
Think specifically of what your issues are in terms of space, light and storage. Exploiting each of these elements to its fullest is key to creating a home that fits your needs like a glove. Whatever your space and budget, there's an optimal solution for each part of this home-design trinity.
Also bear in mind the present and future life stages of members of the household — from toddlers to school children to young adults – and how your home will need to respond to each.
Starting Point 2: Black Fox Interiors, original photo on Houzz
Compare what you have with what you want. Where your issues relate to use of space, start by preparing an inventory of the rooms you have now and how they're used. Next, itemize the spaces you'd like to have and the uses you need to accommodate. Imagine you're writing the brief for your ideal home.
Comparing both these lists should identify any "gaps" that need to be filled. The challenge then is to see whether your existing home can be rethought to meet these needs.
For example, can the extra living room you desire be accommodated in a first-floor room? Or in a loft? Can the guest bedroom double as a home office? Be broad in your thinking to achieve best use of your resources, both spatial and financial.
Related: Furniture to Transform That Spare Room Into a Home Office
Maximize your existing space. If you feel you need more space, first check that the rooms you already have are working sufficiently hard before deciding whether to extend.
Perhaps you even have an unused room. Could it be reinvented and put to work in a different way? Is it actually a problem room — with issues of light, warmth or arrangement that need to be solved before it can be put to any use?
Could the dividing walls between the rooms at the back of your house be removed to create that coveted kitchen/dining/family room?
If you do decide to extend, make sure that the existing house flows into the extension and that, between both areas, your needs in terms of space and storage are fully met.
Starting Point 3: Dorman Architects, original photo on Houzz
Boost natural light. If light is your main concern, a light-filled extension might seem a tempting vision. But bear in mind that such an extension may reduce light in your existing spaces.
Large windows to even the tiniest of external spaces can transform the light levels in any room. So, too, can light tubes, always a powerful source of light.
Where space and planning controls permit, a garden room, such as the one in this photo, can expand your space without impinging on the quality of light in the main house. Depending on the orientation of your home, the garden room may even enjoy better sunlight than the main rooms.
Manage your storage. Your aim throughout the house should be to achieve storage that's both convenient and appropriate to what's being stored.
You may think your existing storage is woefully inadequate, but before ripping it out and starting again, ask yourself: Could it work harder?
In the kitchen, for example, rearranging the contents of existing drawers and adding cabinet shelves can free up valuable space. This thinking can be applied to closets, linen cabinets and all other special storage areas around the house. Your main outlay here will be time, not money.
Related: Inspiration for a Beautifully Organized Closet
Starting Point 4: Domus Nova, original photo on Houzz
Turn a "problem room" into a successful one. If there's a room in your home that's shunned and avoided, you may well have a problem room.
However, there's always a reason why a room is not used. It may, for example, be physically or architecturally cold, uninviting in its furniture arrangement or just dark and gloomy.
Make an effort to find out what doesn't work in your problem room, explore possible solutions and get cost estimates for the work involved. Could you take down a wall, as in this inviting, open-plan space? Even moving a door or a radiator can transform a room — and for a fraction of the cost of an extension.
Prioritize the fundamentals. Tackle issues of watertightness, plumbing, electricity and thermal insulation in the first instance.
You won't see visual benefits, but a warm, snug home is a springboard to greater things.
Starting Point 5: Eoin Lyons, original photo on Houzz
Seek professional advice. There's no end of advice available when undertaking work on your home. Everyone around you will have an opinion, and you'll find a huge volume of inspiration from a variety of sources.
The downside is that, amid all this, you risk becoming addled and even paralyzed, unable to figure out what you need to do and how to do it.
If you do find you're out of your depth, seek expert, paid guidance. A good professional will advise you on how best to spend your money and help you avoid costly mistakes. The earlier you involve a professional in your project — even if it's just for a one-off consultation — the better.
Stay focused. Whatever scale of work you take on, resolve to stay focused to the very end. Renovation work tends to be a long and tiring process, and you may be tempted along the way to delegate minor — or even major — decisions to outside parties.
Those decisions you delegate may haunt you. Remember, your aim is to create a home that fits like a glove.